Refreshing a keyboard and mouse - 2017
After having some work done at home I recently found myself in need of both a new keyboard and mouse on very short notice. Also wallpaper paste and electronics, not good friends. I'm very set in my ways when it comes to peripherals and over the years I've grown very fond of a Das Keyboard and, as a left handed mouse user, Microsoft IntelliMouse Optical combination.
The keyboard should've been an easy replacement, unfortunately Das take a few weeks to be delivered, and these days are inching closer and closer to the 200 GBP price point. The cheap plastic, dead flesh feeling, standby with was starting to annoy me so I went for a browse through Amazon Prime and its next day delivery section and settled on a Cooler Master MasterKeys. You can see the two keyboards together here: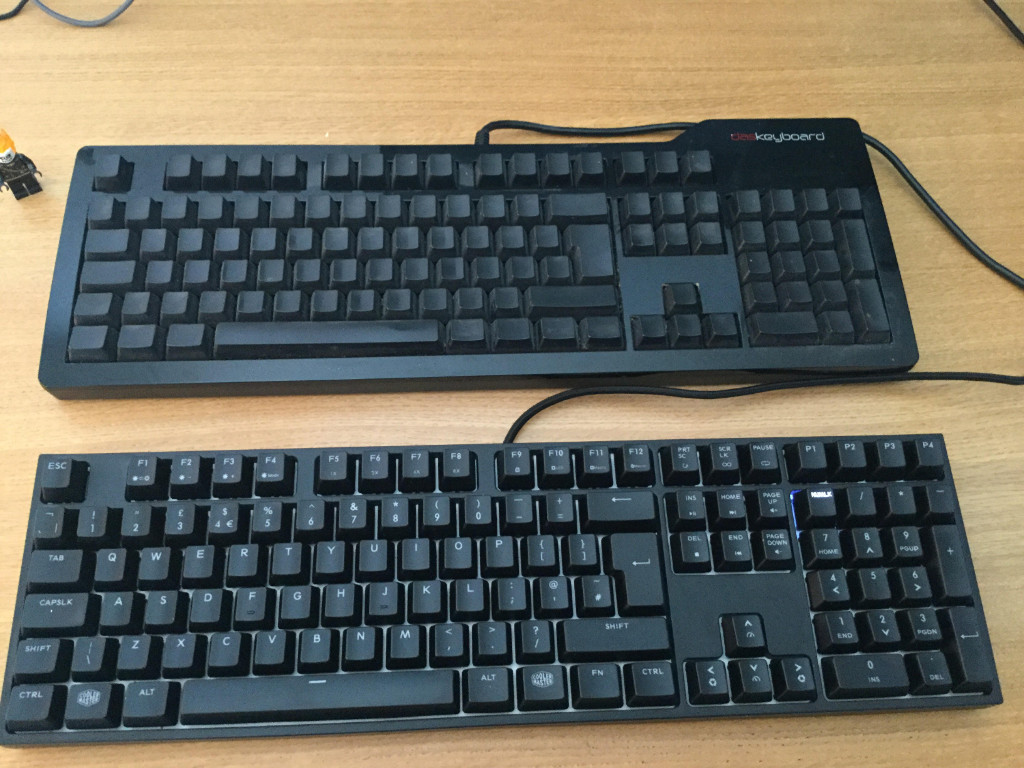 The Cooler Master has a number of fancy features that I'll probably never investigate but it does have nice Cherry Brown switches. They are comfortable to type on and make about as much noise as my old Das, which I think has Cherry Blue switches. I did start to investigate other options in a little more in depth before I placed the order but when keyboard reviews talk about on board CPU specs I started to zone out a little. It's also half the price of the Das.
I've been using it for a week or so and currently have no complaints. Other than one evening coding with the keyboard back light on full, which was bright enough to work by, and should make on call a little more pleasant for everyone else in the house I'm using it as a solid, dumb keyboard.
Selecting a new mouse was more of an issue. In a nearly unforgivable move Microsoft stopped selling the IntelliMouse Optical quite a few years ago. I've always considered it to be the pinnacle of mouse technology (although I also consider all UIs after Windows 2000 to be superfluous so I'm not to be trusted) and so I spent a chunk of time trying to hunt one down. The second hand market has stupidly high markups and the idea of using a second hand mouse was a little unsettling so I had to find an alternative. That could be used comfortably in the left hand.
The first attempt was a logitec M220, which I bought on the recommendation of a left handed friend. Who apparently has tiny, tiny hands. And bad taste in mice. I like a sharp click and the accompanying noise when I click, the M220 key presses are very soft and squidgy with no real click sensation. I found myself second guessing if the click had taken. It was also way too small for me to use comfortably. It felt like I was dragging most of my hand over the desk when I was using it. I very nearly surrendered and bought a Razor Death Adder, the mouse I used to play games with quite a lot a few years ago but the left handed model seems to have a lot less features than the right handed one so I hesitated and asked a few groups of techies for recommendations. A couple of people, who were kind enough to measure their hands for me, suggested a Roccat Kova, which should be fine for either hand and has very good, community supplied drives and config software for Linux.
I've put all three mice in one photo here. If you can't see the Logitech one it's because Ghost Rider is holding it.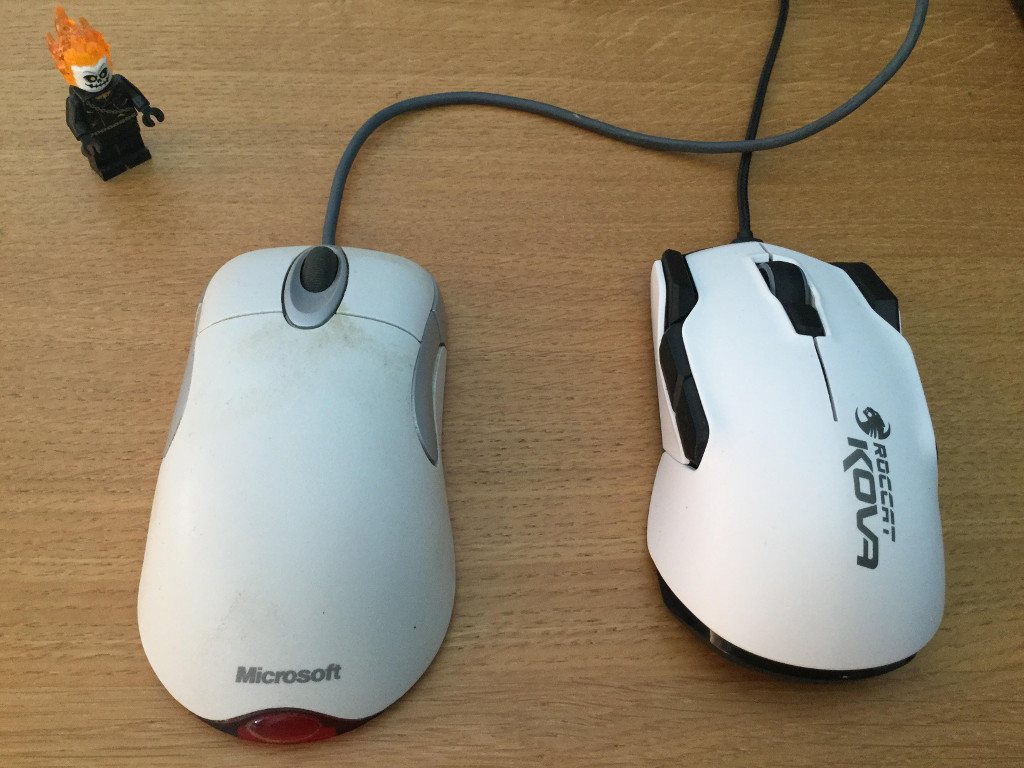 The Roccat is a little smaller, has quite a few more buttons and has been very comfortable to use for the few weeks I've had it. I've tried to avoid getting too tweaky with it but I've remapped a few of the extra buttons to run certain commands and it's been very solid, on or off a mouse mat. Some left handed mice are very uncomfortable for right handed users but I've had no complaints about the Roccat yet. I don't know if it'll last as long as the Intellimouse, which has seen nearly a decade of daily use, but it wasn't too expensive, feels comfortable in use and means I can buy another one for the office.
I know this post might seem like a lot of words over something very trivial but if you're going to use a few tools for 6-12 hours a day it can pay dividends to find decent ones, even if they cost a little more than the default plastic ones you get free with every PC.
I did consider ordering the newest model Das Keyboard for use in the office but then I noticed the 'The Cloud Connected Keyboard' tag line and removed it from my basket. I don't even use a wireless keyboard, a cloud connected one… Really?